Alura Mobile Workshop Systems can be designed and produced according to customer requirements..
Alura mobile workshop systems' weights starts 1.5 Ton to 5 tons with equipments inside according to customer requirement. With a length of 6 meters, it is suitable for 6WD as well as for 4WD trucks with extended chassis. Dimensions can be arranged according to truck which will be used for mobile workshop systems, and best fit can be applicable.
Mobile workshop system is equipped with Generator & Air compressor as a standard to supply its own electricity and air. In accordance with aim of mobile workshop necessary equipments are placed inside the system like lubrication pumps, tyre changer, tyre balances as well as washing system.
Body & Frame
Alura Mobile Workshop Systems offers unprecedented strength and durability. The foundation of the body consists of a carefully engineered, robust, self-supporting steel container frame, with the exact same outer dimensions as a standard 20-ft shipping container or the dimensions of customer's own truck. By considering weight of body, the systems simply be placed anywhere you want using simple support blocks or the lift jacks that provided by us. The body frame is designed to provide maximal strength to the vehicle, even in the most extreme conditions. The 60 mm sandwich panel walls ensure high quality insultation in the most extreme temperature conditions.
Process with customers;
Customers tell us their idea and aim of vehicle. We plan it by calculating needs of power, air for the system with other requirements of customers. We prepare a concept design with exact dimensions of the equipments and send back to the customers for their check and opinions. Upon approval of the design Alura offers the mobile workshop systems to the customers officially with equipment list.
Alura mounts mobile workshops to customers' own trucks in their country if required. Simply process of mounting can be done easily by customers with our mounting manual.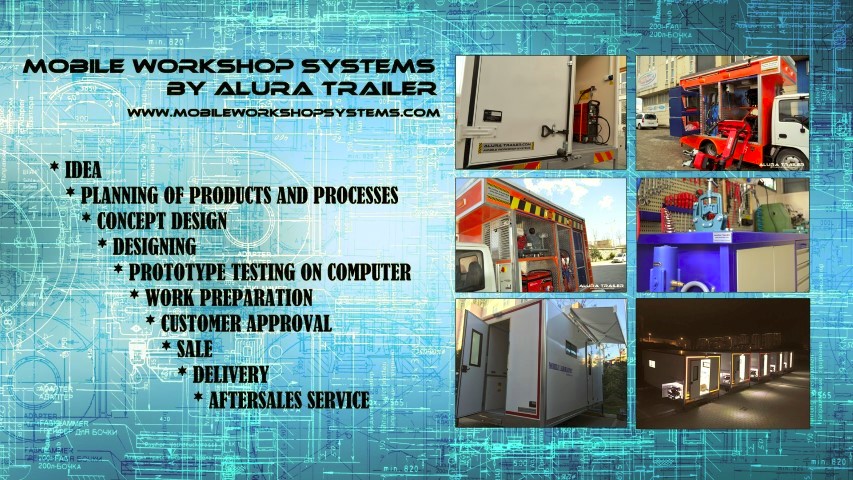 Alura mobile workshop truck bodies are designed with exact dimensions of truck chassis and perfect fit to the customer's truck. We need only truck chassis number to get exact drawing of it.
The robust steel construction offers maximum protection in case of an accident or in the unlikely event of the truck tipping over. As a result of intensive calculation and simulation in the engineering phase, an optimal balance of weight and strength has been achieved. The centre of gravity has been placed at the optimal position: right in the middle of the body.
Truck mounting & dismounting
The body can be easily mounted on truck. The body can easily be handled by overhead crane of forklift without ever compromising the structural integrity. Twist lock connections gives easy locking with our subframe which easy mounted on truck chassis.
Alura Mobile Workshop Systems engineered its own subframe for the 20-ft body. This sub frame contains a torsion-free connection to the truck chassis. Carefully engineered, robust and with a low profile, the importance of the sub-frame is often underestimated.
Interior;
Alura Mobile Workshop Systems' interior is designed according to customer requirements with high quality equipment for mobile using.
Stainless workbenches, drawers, shelves etc.. Interior of mobile workshop provides all the useful attachments which the people working inside the mobile workshop.
Exterior;
Alura Mobile Workshop Systems' exterior is designed by considering outside working with lighting and easy access equipments inside the workshop.
Trailer & Container Systems
Alura mobile workshop systems also can be designed as a trailer or trailer coupled containers.
Alura produce its own trailers as well for suitable mobile applications.
Drawbar trailer mobile workshop systems gives advantages to our customers by using in the city easily.
Drawbar trailer is produced by Alura as galvanized chassis with torsion axles and mechanical brake system. The system is furnished with its own generator and air compressor. As our standard Led lighting, fire proof electrical installation, cassette type rain/sun shelter and A/C units.
Interior is designed in accordance with aim of trailer.
Shipping;
Transporting of mobile workshops for standard size (20" - 40") container is very simple with our own twistlock castings on the workshops. This allows easy transport by virtually every container truck, trailer, train or vessel. Special workshops with out of standard container dimensions are also shipped by a flat-rack containers to customer country.