With more than 15 years experience in the production of semi-trailers low loaders, flatbed trailers, bulk cement trailers, tipper trailers, mobile workshops..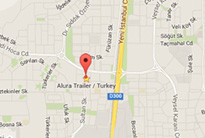 Alura has grown into one of the most preferred deliverers of special trailers, mobile workshop trucks both in EU, CIS and overseas markets.
Our sales staffs are always happy to service you for all your needs.
You can always ask question, price or any technical details about our semi trailers and mobile workshop systems. We would be very glad to answer you.